Tailgating Checklist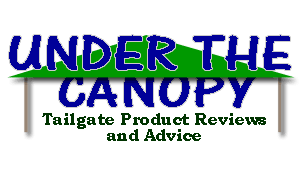 "Tailgating Checklist"
The Basic 1-2-3 of Tailgating:
1. Parking Space: Get there early and find a space with some open area around you. By finding grass you will be able to spread out and be comfortable at your tailgate.
2. Food: Food, next to football, is the reason many people tailgate. Some do cold cuts, some grill steaks, some prefer the…umm…purely liquid diet. Whatever your preference we have compiled some recipes that have become favorites of the PennStateTailgate.com-ers and our guests. Find the ones you like and email any of your favorites to be added to the list.
3. Beverage: Pick what you enjoy. While most prefer beer, you can be creative, with Mimosas and Irish coffee in the morning, and Captain Morgan to cap the evening. If you prefer the non-alcoholic beverage pick your favorite soft drink.
Advanced Tailgating Checklist:
Cooking
Coleman Roadtrip Propane Grill
Coleman Propane Camp Stove
Extra Propane
Steam Table
Cooking Utensils (Spatula, Big Spoon, Sharp Knife)
Camp Toaster
Turkey Fryer
Apron
Comfort and Convenience
Folding Tables
Cooler(s)
EZ-UP Canopies
Portable Radio
Folding Chairs
Paper Towels
Plates and Bowls
Plastic Utensils
Napkins
Clorox Wipes
Table Cloths
Garbage Bags
Ziploc Bags
Extra Water
Game Gear
Rain Gear
Seat Cushions
Binoculars
Blankets
Tickets
Spirit Gear
Team Flags
Flag Pole
Inflatable Mascot
Pennants
Plates and Utensils in Team Colors
Team Clothing
Medical Kit
Antacid
Immodium
Tylenol, Advil, Aleve
Burn Spray
Band-Aids
Contact Lens Solution
Misc.
Jumper Cables
Toilet Paper
Football
Bring a Friend