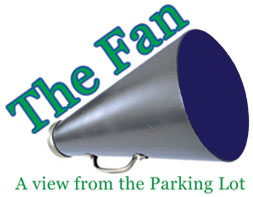 -Quote from many at the tailgate after the complete domination of Oregon State
From the Field:
As this team heads into the dome to take on old rival Syracuse, many in the Nittany Nation just don't know what to make the team.  Are they what we hope they are, a potential Big Ten title contender or are they perhaps just another letdown for a fan base that has only one bright spot of a season the last 9 season.  Unfortunately we won't find out this week against what is destined to be a blowout. 
I'm not the first to ask the bigger questions.  Are we for real?  What's the impact of the "off the field" incidents.  All we can really do at this point is wait for October.  Then we'll know if this team is the answer to our prayers or just another pretender in a contender costume.
From the Parking Lot:
Things in the parking lots have been mirroring the team on the field.  The October concentration of defining moments this year has caused the tailgaters this year to save it all for the big games.  Of course fun continues to be had by all and our first forary into the classic tailgate game corn hole or baggo, or whatever the heck else it's called has infused some new competition into the tailgate crew.  Homemade boards are on display in the newest photo gallery here.
We'll see you at Temple!
S-T-A-T-E Go State!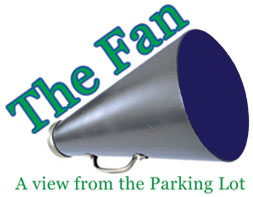 Every year it happens at some point.  I officially decide, in a very unscientific way, that summer is over.  Sometimes it happens in July, sometimes early August.  I held out a little longer this year, but it still always happens the same way.  It involves the Blue Band CD,  volume at about level 23, some curious glances from other drivers on the road, and some tears.  It happened this Friday.  In went the Blue Band, the tears started flowing and now, I'm officially ready for the season. 
Tailgating season is upon us, and the crew at PennStateTailgate.com is ready.  Loyal members of the Nittany Nation all over the country can relate.  I write this every year.  I tell everyone that will listen;  Saturday is our New Year's Day. 
The Parking Lot will once again be our home.  Paradise IS a Parking Lot.
FROM THE FIELD:
I continue to start every season with some optimism, and this year is no different.  I think we could be good.  I convince myself that we have a chance to be really good.  A lot of people are comparing this team to the 2005 group.  Quite a lofty comparison and one that I'll take.  The only difference is that in 2005 no one was expecting anything from us and that provided our team with a chance to come in under the radar.  The fact that people make the effort to compare this team to that one makes me a little worrisome.  I won't pretend to be the Xs and Os guy because I just don't look at the game that way.  What I can do, is say that I think this team could go 10-2 this year and contend for a Big Ten title.  From an average fan's perspective a lot of factors come into play to make that happen.  First, Joe needs to relinquish MORE control and let his assistants coach.  Second, we need A LOT of luck in October.  Not many teams will run the gauntlet that is our October schedule.  I think that's where both of our losses come, but if we hold our own we may surprise some people. 
Many of our fans have only one game circled and that of course is Michigan.  DickRod and his new spread offense come to the Beav for homecoming and many think that we win the game.  I agree.   The emotions of Illinois at night in late September will also provide what's become the most intimidating place to play in the country.  At night in Beaver Stadium.  
So my prediction is losses to Purdue and Ohio State and BCS berth.  Hey, a fan can start the season with optimism right?
 
-Â  OSU Tackle Kirk Barton referencing Beaver Stadium
From the Field:
These are the ones you dream of.  These are the ones that cost the Pennsylvania economy millions of dollars in lost time.  Time spent daydreaming and websurfing.  Time spent on YouTube and on the cell with your buddies.  These are the games that give you chills, with just a simple thought about what the game might be like.
#1 Team in the nation
Fall chill in the air
8pm kickoff
An opponent who hasn't lost a regular season game since WE last beat them.  At night.  Fall chill in the air.
Our boys will be ready, and our crowd will put this team on their shoulders and carry them to victory.  Beaver Stadium has become the most intimidating place to play a college football game under the glow of stadium lights in the country.  There are no competitors.  Our students are ready.  Our alumni are ready.  Our Blue Band is ready.  Our cheerleaders, mascot, drum major, concession vendors, ushers, scoreboard operators, bathroom cleaners, wheelchair pushers, hot dog sellers, first aid team in the lime green vests, and everyone else in that stadium are ready to prove that in 2005 against the Buckeyes we were just getting warmed up.
From the Parking Lot:
The beauty of the big game is evidenced by the lack of focus on virtually anything else in your life.  Here are some of the quotes that have been written by fellow tailgaters to me this week:
"A day of rain, drinking, shots, and fried food….I may have to bring some ol milluakee cause it dosent get any better than this!!!"
"I just rammed my head through the computer…." -after reading the quote in the title of this post
"Eh, that ought to get us through lunch!!" -reference to the 65 Jello shots in my refrigerator
I've also confirmed that this is a unprecedented week as I've gotten at least a dozen emails through the website asking me random questions about tailgating at PSU. The parking lot will be a carnival on saturday.  Colors and smells, people and pride.  All with one goal.  Becoming at least a factor in a game that means everything. 
To get you all in the mood, check out a couple of the videos from YouTube that I've condensed on a page at PennStateTailgate.com.  Oh, and prepare for the goosebumps!
GO STATE, Beat the BUCKEYES!
From the Field:
It's not easy rooting for this team.  Talk about hot and cold.  I'm not sure Wisconsin is that good, but we destroyed them.  And we actually looked like a college football team, instead of a deer in the headlights that we look like on the road. 
The point is, this team looks different at home.  They look prepared, they look confident, and they look they believe they can win with the gameplan they've been given.  That's not the way this team looks on the road, and it all comes down to coaching.  And the truth is in the numbers.  At home since 2000 we're something in the neighborhood of 19-1.  Since 2000 we're 11-24 on the road.  You do the math.  In this age of parity in College Football (yes, that's right South Florida is #2) you can't go on the road, play conservatively and expect to win, even if you feel like you have have the talent.  Big Ten football may have once been that way.  Well in 2007 it is more appropriate to say may the smartest team win.  Gameplanning is about finding another team's weakness and exploiting it in the hopes of victory.  Michigan had weaknesses.  They had a freshman QB who we didn't pressure nearly enough.  They had a secondary we didn't challenge nearly enough, and they had a running back that destroyed us over the left said for 60 minutes, without a sniff of adjustment.  Illinois is a very talented team, but they had weaknesses, and we didn't expoit them, still had a chance to win, and let it slip away.  We had no business not winning that game by 10 points, but our coaching staff didn't give us a chance to win.  Joe Paterno is constantly saying "we're a young team, and we're not that good yet."  In 2007 all the teams are young.  All of them are fast.  And the good ones are finding a way to win each and every week with cutting edge coaching, solid player development, and an attitude of success.  The ways of the Nittany Lions aren't fitting that mold.
After a victory that showed what we're capable of, it brings some optimism that we'll come out next week and find the best way to beat Indiana and take care of it.  It shouldn't be close.  We should win.  And then the #1 ranked Buckeyes enter Beaver Stadium.  Eight o'clock kickoff.  Hostile environment.  Home is where the gameplan and the fans are.
From the Parking Lot:
So I admit it.  I'm a fair weather poster.  I can't bring myself to write things after losses.  It's too hard and too frustrating.  I could never make it as a writer.  But after the sweet victories?  It's easy. 
The parking lot before the game on Saturday was buzzing about all of the off field issues that have plagued the Nittany Lions this year.  The parking lot afterward was filled with fans somewhat impressed and wondering what if.
The tailgate as always was top notch.  Another media interview brought out the best in the tailgate and brought some more attention to our growing group of friends.  Check out the CDT article here.  Pay close attention to the myriad of negative comments coming from the uninformed Centre Countians.  I have nothing bad to say about these people (at least publicly) but I encourage all of them to stop by our tailgate and see what all the excitement is about.  Friends, family, food, and fun.  That sounds like the best way I could ever think to spend a day. 
Until next time, GO STATE!  BEAT HOOSIERS!
Email The Fan
Back to PennStateTailgate.com
From the road:
The car is packed, the plans are made, the boys are ready.  All we need now is a victory, to make the long ride home more tolerable. 
Once a year we make the trek by ground or by air to see our beloved Nitts play in the road whites.  Historically, they have been long rides home.  This year may or may not be different.  I've learned to have no expectations.  I've learned that being on the road is different.  You are less likely to win.  We have to face that fact.  But dammit, we REALLY want this victory. 
More reports from Ann Arbor (is a whore) to come!
From the Field:
What's next for a team that is 2-0 and has its fan base thinking big things?  Disaster, if we aren't careful.  We are being set up for a huge let down one of these weeks if we get complacent about preparation, focus, and reality.  Questions about the offense abound, and great expectations about this young defense are spreading a feeling of invincibility.  Truth be told, I've bought into it.  I think we could be REALLY, REALLY good if we do all the little things that Papa Joe preaches.  I and millions of PSU faithful hope that's the case.
So what are the so called "experts" thinking.  Here's samplings from around the media:
From the Parking Lot:
Perhaps the best thing about big games is the tailgate.  You can never count on a hyped game living up to the hype.  The tailgates are somewhat more reliable.  As my few readers know, I missed this hyped tailgate for a wedding.  But all reports indicate that it was one for the ages.  Marathon washer games, inappropriately short intervals for the shot chair, and a large crowd filled to the brim with tailgate recipes to behold.  The Fan is looking forward to getting back in the groove with a tailgate this weekend with Buffalo and then the big one next weekend at Michigan.  When PennStateTailgate.com goes on the road to Ann Arbor (is a wh*re) only great times happen. 
From the Field:
Should we take this team seriously?  You bet your ass we should.  Am I the only one that is still worried?  Probably not.  Do I think we'll win, absolutely.  Will I be there?  Nope.  Brother-in-law's wedding.  I know.  Unbelievable.  But I'm at peace with that, now.  Back to the game. 
So now that the pessimistic part is over.  I think we could actually go undefeated.  I'm on record (I know there are others) that we actually have a shot.  If we get out of September (yes that includes a win over Michigan whom we haven't beat since Clinton was president…on the road) we could have a chance.  The schedule still plays out in our favor and we could do this.  I'd love a trip in early January…that might make the miss of Notre Dame a little easier.
From the parking lot:
Life in the parking lot this weekend will be out of control.  Follow along with the PennStateTailgate.com'ers on the Lion Board.  Talk will be on Notre Dame, and memories will be fresh of their loss last week, along with the Michigan debacle, and oh by the way Bobby Bowden losing again.  JoePa is only two games behind the elder Bowden and is charging HARD.  I think the next two years could get JoePa back in the hunt for that record.  Pat Forde had a great article that showed three coaches Penn State fans have no love lost for go down.  The only thing that will make that weekend even more perfect is a perfect season.  I know it's early, but why not us?
Until next time, S-T-A-T-E GO STATE!
"Believe deep down in your heart that you're destined to do great things."
-Joe Paterno
From the Parking Lot:
Tailgating at a Penn State game is an experience like no other.  We've chronicled that many times before on PennStateTailgate.com.  Every once in awhile, however, there is a bit more of a community in the parking lot.  Something that brings the fans even closer.  That happened on Saturday in Happy Valley when news of the impending Michigan loss spread faster than a fire at a sawdust factory. 
People were roaming the parking lots, with score updates coming from cell phones, makeshift satellite TVs and word of mouth in line for the porta potties.  PSU fans were immediately enjoying themselves just a bit more.  The joy of the loss was only a bit interrupted by the thought every fan was having "will this make them a hell of a lot harder to beat in three weeks?"
All I know if that celebrating a Michigan loss in early September is a rare treat, unless they're playing Notre Dame.  This one was fun.  Of course, all you Mich lovers out there have plenty to come back at me with (yeah I remember the last victory…I was in my twenties then), but it doesn't mean we can't enjoy this one. 
The rest of this week's tailgate went off without a hitch.  Beautiful weather, delicious food, and spectacular company.  These are the days…
From the Field:
I usually leave the expert on the field analysis to my good friend over at "In the Huddle," but I'll offer my opinion here:  You couldn't tell one thing from this game.I usually leave the expert on the field analysis to my good friend over at but I'll offer my opinion here:  You couldn't tell one thing from this game.There were no answers as to the reliability of the offensive line, but there was a game of experience under their belt.  There were still dropped passes by Derrick Williams, and fumbles that will change a game in the heart of the Big Ten schedule.  There were many flashes of talent, but how much can you really tell against a team that hasn't won a game in such a long time.  I'd say not much.  Of course, I'll take still wondering to losing to a I-AA team.  Go Blue…and White!
Until next time in the parking lot…
S-T-A-T-E GO STATE!
First off, let me make you a promise.  The Fan will be making more posts about the season this year than before.  We work hard at keeping this website working as a place for our group and others to find good quality tailgating information and The Fan needs to do more to keep that content fresh.  Whether it's interesting or not, who really cares.  I just need to write more. 
From the Parking Lot:

August is one of those months that just annoy me.  It's usually too hot to do a damn thing, you are alwyas trying to fit in that last summer activity.  But this past week has been different.  It's been almost fall like.  And you know what fall means to guys like me?  Tailgating and football.  It also means weddings, but we won't even go there.
All summer long Penn State football has been in the news for all the wrong reasons, all of which involve alchohol.  But the story lines are turning back to where they belong, recruiting and on the field action.  There seems to be a quiet confidence brewing around the 2007 squad.  Maybe not a remarkable season kind of confidence, but a "hey maybe we've really got a shot at doing something great this year kind of confidence."  I guess we'll find out soon.
Until next time, S-T-A-T-E Go State!
 
Email the Fan | Visit "The Fan" Archive | HOME
From the Parking Lot:
Blue-White game weather is the stuff of legend.  Last year was nothing short of a monsoon.  Yet this weekend in April still remains a must attend event for the serious tailgater.  And that we are.In the hopes that I am not jinxing this, the weather this weekend looks great.  Let's hope it stays that way, because with good weather comes the crowd of people that you haven't seen in months.  The winter hibernation keeps many of us apart and when the weather cooperates it brings many of us back together where we belong…in the parking lot. Of course when many of us step back on campus, on our minds will be on the tragic shooting at Virginia Tech.  Most of us know VA Tech only as a regional recruiting rival, but the past few days have put a different face on our fellow fans, and tailgaters to the south.  The Hokies were to have played their annual spring football game this Saturday as well.  Tragedy has prevented that, and everyone at Penn State including the PennStateTailgate.com-ers will have those that lost loved ones in their thoughts and prayers. 
It's cliche to say that events like this shooting put everything in perspective, but it seems true in many ways.  Sports and tailgating will always offer those that participate an escape from the reality of the world.  It will also be a reminder of the optimism and sprit that this country is proud of.

Until next time, S-T-A-T-E Go State!Email the Fan | Visit "The Fan" Archive | HOME